2nd Annual Mackenzie Nicole Kulesza Memorial
Winter Racing League
IndyKart Raceway to pay tribute to Mackenzie Nicole Kulesza. Western New York racing family suffered a terrible loss when 11-year-old Mackenzie Kulesza was struck and killed by a car while walking with her friends in November of 2020 in Lockport, N.Y.

Mackenzie was the daughter of Tony Kulesza who has been a participant in WNY racing for a number of years, most recently as an official with the BEI Lightning Sportsman Series and as a Mini Stock driver at Genesee Speedway. Tony will be the honorary flagger for the Main Events during the Spring League. IndyKart Raceway is honored to announce to host this special event in Mackenzie's memory.
2022 WINTER LEAGUE STANDINGS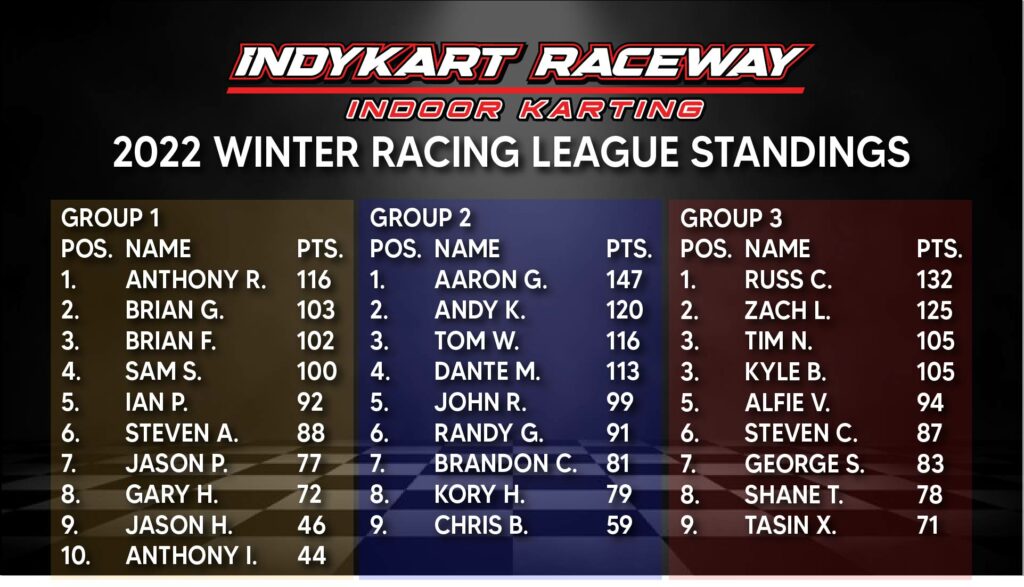 NEXT LEAGUE DATES:
2022 SPRING LEAGUE

TUESDAY – MARCH 15th (Must be registered this night to participate the following 3 weeks)
TUESDAY – MARCH 22nd  (Reverse Night)
TUESDAY – MARCH 29th  (Oval Night)
TUESDAY – APRIL 5th  (Endurance Night)
Includes 3 races per night and complimentary pizza. Must be at least 18 years old, or a graduated Youth-to-Adult racer. Points accumulated nightly for 4 consecutive weeks with 1st, 2nd and 3rd place prizes awarded in each group.
Price: $54 per night OR Pre-register with upfront payment of $185 (15% discount) in store. Once pre-registered you'll be eligible for $12 practice races 12pm-7pm on each league night.
Pre-Registration for each of these events is now open, and is limited to a maximum of 30 racers per night. Register at Customer Service Desk.
**Must be registered prior to 7:00pm on the first night of each league. Once first week has started in each seasonal league, there will be no additions.
1st Place Prize: Name on the IndyKart Raceway League of Champions Wall of Fame, 5 Free Races
2nd Place Prize: 3 Free Races
3rd Place Prize: 2 Free Races